Welcome back to school!! We are so excited about our new school year!! When you come to campus you can expect to see and feel some much needed improvements. A new roof, air conditioning, and lighting projects are being completed and should be totally finished soon. Several classrooms and hallways have been upgraded with new flooring. It all makes us feel like we are "Happy to be Home!" That sounds so good, I think that will be our theme for our Greek Houses this year!!!
What else is going on at OMS? Learning and lots of it!! Our goal for student learning this year is to focus on the individual student's learning needs. To do this we will be implementing iReady that creates an individualized learning path for every student in reading and math. We will provide tutoring after school that will focus on reading and math standards. We will also have intervention teachers on staff to support our students during the school day. Please contact us if you think your student may benefit from these extra supports. We will be glad to have them join one of these sessions.
We firmly believe that students in the middle school years want to belong to something. That something can be positive or negative. By providing an opportunity for our students to belong to a Greek House that focuses on positive interactions, mentoring, service projects, and positive character traits, we know that our students have a far greater chance of growing up to be productive citizens!!!
Are you interested in football, cheering, singing, band, twirling, color guard, fishing, baseball, softball, basketball, golf, or track? If you are, we have a place for you!!! Some of these teams travel to nearby cities. This level of competition is fun. We meet lots of different people with similar interests. What are you waiting for?? Try out for a team!!
Lastly, if your student is having a problem at OMS let a teacher, counselor, or an administrator know. Our emails are listed on our school web page or you can call the school at 493-6332. We want our students to feel safe and loved at OMS. We want them to be "Happy to be Home!".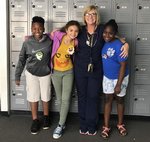 SHARON SPURLIN, Principal
Baby Shark and Grey`s Anatomy Dress Up Day